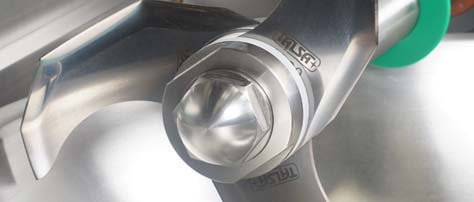 It is easy to talk about the excellence of this European company since it became one of the world-leading companies on the production of machinery for the meat industry.
On this post, we would not like to talk again about their production quality or the quality of the end product due to their uncompromising attention to detail. This needs no further demonstration since the good image of the brand and its sale rates can speak for themselves. However, we would like to mention the responsibility of their managers and the loyalty of their employees that demand and meet all the commitments and norms relating to production, administration, sales and after-sales.
Reaching a mutual understanding of both aspects is reaching a common ground of how things must be done.
Since the Bellochs started their small family business in the 1900 and opened their small workshop, the common denominator of their success in all the projects they undertake is organization and hard work. Also, they complement their solid business structure with innovation and the implementation of all the necessary quality control systems and norms that can lead the company to success.
Talsa, the commercial Brand of Talsabell is a reference of innovation in the world of machinery for the meat industry and has a with a wide distribution network.
All the machines, fillers, mixers, mincers and grinders, cutters and cooking kettles, made in stainless steel with an impeccable presentation and performance, come out of the factory in Valencia meeting the CE Health and Safety Standards. This is a result of over 100 years of effort, recognized by the Exportation Award granted by the Chamber of Commerce of Valencia, Spain
Their distribution network makes it possible to include the installation and after-sales services as a part of their compromise to quality and determination to being a top brand. Through these services, they are able to keep track of registries, identification information and components of the machines, helping them improve every day a little more.