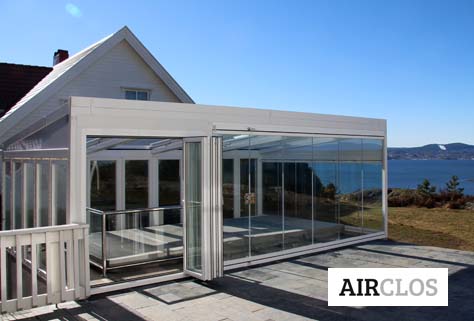 Airclos
An innovative company
Ceilings and Aluminum carpentry
Metallic closings, doors and ceilings are the solution to enjoying open spaces at all times. Inclement weather does not force you to leave the room anymore, to look from the inside out. They protect exterior spaces that can now be enjoyed regardless of time and weather.
These new closings reminds of the fountains and gazebos of past centuries, that were surrounded by large windows, in addition to being a good method for the distribution and utilization of space, both external and internal, in order to optimize its use, for individuals as well as for companies.
Airclos is a company specialized in ceilings and aluminum carpentry which has grown adapting to its clients' needs.
It is a young and dynamic company, which has successfully learned to adapt to new technologies. Its human capital together with its commitment and innovation has allowed it to grow rapidly within its sector, providing an image of professionalism, efficacy and transparency.
Their closings are suited for companies, construction professionals as well as individuals, in which case, they can be put in touch with the nearest installer.
Its sense of responsibility is the main reason that drives this company to offer courses for its clients, in order to teach them how to best install their products.
Accordion-type sliding doors and windows, retractable roofs, frameless balcony glazing and finishes are the specialty of Airclos, a company located in Spain, Paterna (Valencia).
Its sales have increased simultaneously with the improvement of its production processes, due to the customers' demand for high quality products and excellent service. That's the reason why quality control is always present, both during the production process and in the company's management.
The after-sale service is flexible and comes with a safety warranty. Thanks to its expansion, Airclos is considered a competitive company which complies with European normative and standards.
You can find out more about Airclos and see its installations at Web page Airclos
Folding sliding doors.
Bi-Fold Doors.