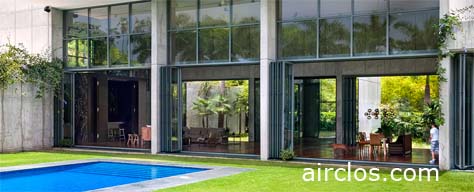 Glass curtain walls and accordion windows
Airclos
Airclos is a Spanish leading company in aluminum carpentry special systems, specialized in balcony glazing and roofing and accordion-type sliding windows and doors, among other specialties.
They offer solutions to close open spaces, both interior and exterior, in different materials and finishes. They are proud of continuously innovating in order to offer their customers the best finished product in terms of design and quality. They are undoubtedly an example of a technologically oriented company and their corporate image reflects it.
The glass curtain walls don't have any impact on the building structure and they allow the isolation of certain areas without losing the panoramic view which is the current architectural trend, where crystal has taken center stage to include scenery and transparency, to incorporate the natural environment to urban development.
It is no coincidence that their production has increased substantially since the foundation of the company. It has been their specialization in this type of products that opened the doors to the European market. This has been made possible with the incorporation of new products to their catalog as well as through hard work and an important technological and managemental effort, with a single goal: quality.
Their website is very visual and reveals their philosophy, their commitment to quality, research and innovation, their continuous development, their business network, their customer service and their customer formation plan as a way to transfer knowledge. As their customers are often professionals who need their products, they are also training installers. Using a logic, progressive vision, no area of the commercial puzzle has been neglected.
Their work's photographs leave nobody indifferent. The accordion doors, the glass doors and sliding roofs represent a clear separation of spaces in hotels, terraces, gardens, offices, restaurants, etc. Technical characteristics, advantages, among others, can be consulted in their website.
If you are looking for this type of solution for your projects, this is a company to consider.