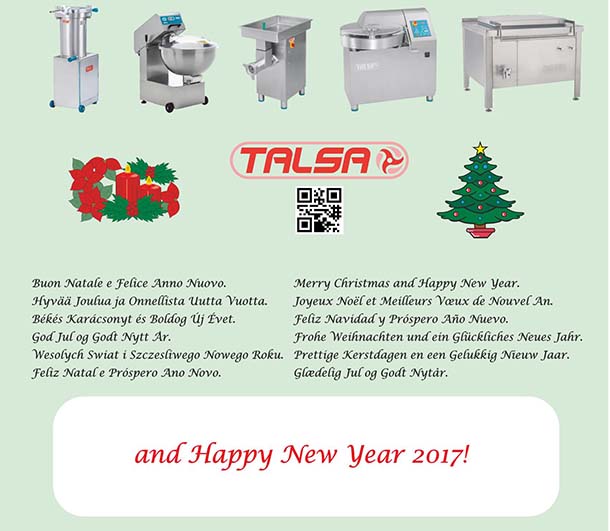 The Talsa team wants to wish a happy holiday season to all of our providers and service providers, clients and, of course, to our faithful distributors, who year after year have shown our clients all the properties and qualities of our machinery for the meat industry. They have maintained constant contact with our clients and met all their needs and worries so any problem would find an immediate solution.
We leave behind many years of hard work to become what we are today. And ahead of us is our dream we will keep working for, to improve ourselves and provide year after year a better service for our clients worldwide.
As any other company with a constant and stable progression towards expansion in Europe and on the other side of the Atlantic, what Talsa expects is to maintain its reputation everywhere it sets foot on. Maintain the quality and beauty of its products, the robust but simple and elegant machinery, easy to handle and with preferential technical support around the globe.
Talsa keeps on the hard work to maintain its leadership on the market of medium-capacity machinery for the food processing industry, obtained after 100 years of dedication and industrial experience, 80 of which have been dedicated to food industry machinery. Their 3D designers continue to study new proposals for a future that promises innovation. Just like the new and recently improved logotype that reminded us of its importance.
We close our year happy to have exceeded our expected sales and knowing that we maintained a good management from our directive team to face all setbacks. We hope to continue on the same note of perseverance and monitoring next year.
Talsa wishes you a happy 2017.