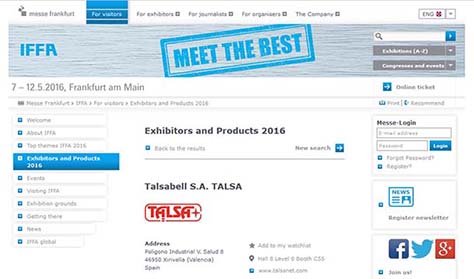 IFFA Frankfurt Fair
Talsa

be present
Talsa, a machinery manufacturer for the meat industry, is endorsed by more than 100 years of industrial experience.
Shortly, from May 7th to May 12th Talsa will participate at the IFFA Frankfurt Fair, stand 8.0 C55.
Talsa doesn't sell directly to large or medium-sized companies, but it sells its machinery through its distributors and in fairs such as this. Talsa exhibits its innovations and also builds relationships with people and companies interested in distributing its machinery. For this reason, Talsa is always present in the best international business fairs.
IFFA is one of the most internationally relevant innovative platforms with "meat" as its subject. In the past 50 years, German and internationally recognized manufactures meet in this Fair to exhibit to the professional community the new trends in this industry, offering solutions for all stages of the value chain in the meat industry. From the slaughtering stage to the transformation, treatment, packing and sales stages.
Globalization has imposed some requirements to the whole value chain, emphasizing the importance of hygienic processing and setting strict controls to ensure food safety. The IFFA is, therefore, the exhibition site for the "modern meat industry". Taking part in this Fair is then very important in order to be in touch with international clients and consequently to open more doors and opportunities for export.
In its previous edition, the Fair surface was 120.000 m2 with approximately 1000 exhibitors and some 60.000 visitors.
Talsa will exhibit its wide range of machinery for the meat processing industry:
Medium capacity machinery for the sausage industry, which has earned a quality and excellence seal and worldwide leadership recognition. Talsa also makes a commitment to deliver in time and makes immediate dispatches through recognized transportation means. It uses the TNT Express Courier to ship parts anywhere in the world and gives support to its distributors 365 days of the year.
We will insist again in all this in the IFFA 2016.