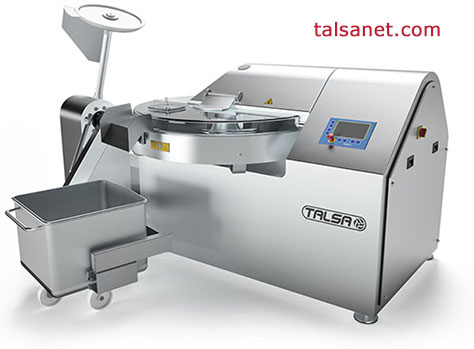 Talsa Places a New Machine on the Market.
Talsa, a world leading company in the fabrication of machinery for the food industry and an example of constant innovation for over 100 years, has just launched to the market through its wide international distributors network a new cutter with innovative features.
New Advanced Professional Cutter – Talsa K200
Designed in 2017, with a capacity of 200 liters and advanced functions, this cutter for the meat industry is the most advanced in the market at the moment and the one with the biggest capacity of all the Talsa range. Talsa can offer machinery for 15, 30, 50, 80, 120 and now 200 liters capacity.
The new Talsa cutter K200 is a solid all stainless steel machine with a weight of 3,500 Kg and multiple functions that can be checked out at Talsa's Website. It counts with a variety of options like additional knife heads, specially designed knives, etc.
Talsa's new cutter (cutter mixer) K200 is designed for all types of cuts, for big cold cuts companies and industrial processors, and is even adequate for a wide range of products such as poultry, fish, confectionery, vegetarian, etc. Talsa's cutter K200 cuts, mixes and emulsifies all types of food products with different textures, no matter how thick or fine they are.
R+D+i on the new Talsa Cutter K200
The development of this new and innovative machine for the meat industry has been the result of an R+D+i project in cooperation with the Department of Mechanical Engineering at the Universidad Politécnica de Valencia, centered on the reduction of vibrations and sound. The innovative design of the Talsa cutter K200 is the result of hours of investigation.
Talsa, as the innovative company it is, places itself once more at a leading position in the sector.