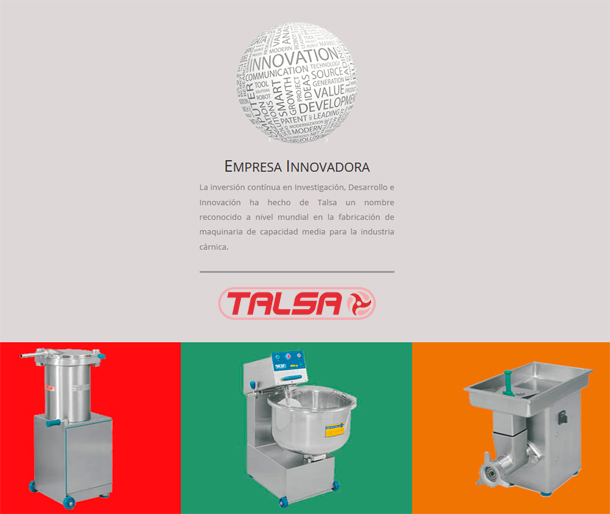 MEDIUM-RANGE MACHINERY
All of Talsa's machinery are made of stainless steel. They are medium-range machinery for the meat industry and they are easy to use combining both manual and automatic ergonomic elements for the user's comfort.
Thanks to the invention of stainless steel in the XX century, offering a greater resistance against corrosion, machinery nowadays are cleaner and last longer and are used in different markets, among them household appliances, exhaust pipes for the automobile industry, jewelry making, construction and the food industry. It is also successfully used in the medical industry for additionally having an aesthetic value and it is being used on prostheses and surgical instruments. It's a material that fully satisfies all demands that require its characteristics.
The machinery range that Talsa distributes covers a wide range of solutions for the production of cold meats, and in the case of the stuffers, a portioning device can be adapted in order to ensure precise and consistent volume dosage.
The mixers, grinders, cutters and kettles have also won Talsa's customer trust and are responsible for its reputation as world leader in the industry when it comes to the fabrication, delivery times, urgent delivery and parts replacement of their machinery, all done through its distributors with a commitment for immediate attention every day of the year.
Talsa distributes in 60 countries and it's all possible thanks to the direct agents working for the company that offer specialized and personalized installation as well as technical support.
Talsa doesn't exclusively sale its machinery but also offers a year-round after sales service guaranteeing always top quality. The electrical components of their machinery are simple and lack any complex electronic programming, they are accessible and reliable.
An innovative company with more than 100 years' experience. Reason enough to trust this brand.