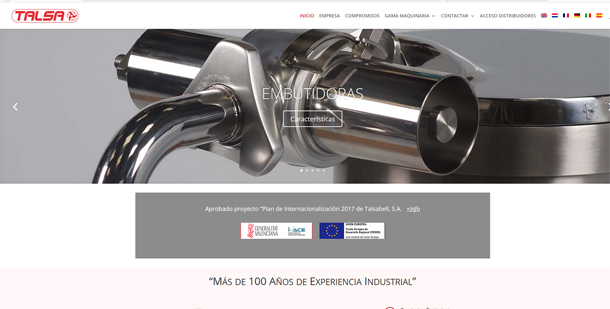 TALSA QUALITY CONTROL
Talsa is a company committed to quality and its norms meets the health and safety standards established by the European Community.  After 100 years' experience in the meat industry sector, it was recognized with the Exportation Award granted by the Chamber of Commerce of Valencia.
The implementation of quality controls help companies ensuring and certifying that their products meet the minimum quality requirements and to detect any manufacturing error.
Talsa's management has always aimed for excellence taking care of every detail. After conducting a very exhaustive quality project in all departments (manufacturing, administration, sales, customer support, distributors support, etc.), quality control has been implemented in an orderly way, not leaving room for improvising. Also, all the proper security and hygiene measures have been applied in both facilities and machinery.
Its machinery range for the cold cuts industry is known worldwide, but Talsa continues innovating to offer improvement and new features in their products with its constant R+D+i.
Obsessed with good service, Talsa presents on its website everything it stands for: production deadlines, urgent transportation of machinery, immediate shipment of spare parts, immediate attention to its distributors 365 days a year and distribution in over 60 countries.
Its website is simple but clear and its intranet specially designed for the management of its distributors, from where all orders can be seen as well as their status, the machinery specifications and a place to manage all administrative tasks is available without having to close any windows.
To manage all spare parts and their orders, the intranet presents a drawing of the machine with all pieces put apart so the order can be placed with a single click, thus preventing mistakes by being able to see the piece and its reference number at the same time.
Talsa has no direct contact with its clients but through its distributors, who guarantee the quality control Talsa has put so much effort on and which identifies it.