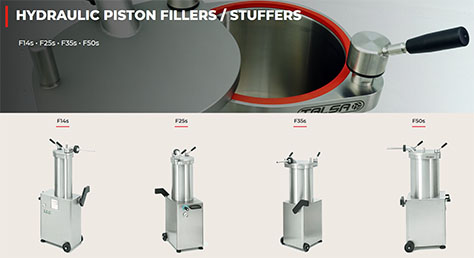 On other occasions we have talked in this blog about Talsa, a manufacturer of machinery for the meat industry, as an innovative company with continuous investments in R+D+i.
Talsa has been completely renewing its website for a while with a permanent content update. Its English and Spanish versions have already been updated, pending some sections of the versions in French and German.
Hydraulic Stuffers
Talsa recently published a video, which can be found below, about its range of Hydraulic Stuffers.
In the video, we can see an explanation of the benefits and functionalities of this range of machines.
They are 4 models available of Hydraulic Stuffers, the F14s – F25s – F35s – F50s that correspond to different capacities and benefits.
In the corresponding section on Talsa's website, under Hydraulic Stuffers within the range of machinery, we can access very complete and updated information on the advantages and the distinctive and technical characteristics of the different models, as well as some photo galleries with images of their most outstanding details in both standard equipment and optional equipment.
The entire range is designed to allow easy access to all its components, facilitating its use, maintenance and cleaning.
A very interesting distinctive feature, which can be seen in the attached video, is the start and stop of the engine with the knee through a comfortable lever without using your hands.
All machines are manufactured and optimized to obtain a lower wear of its components, lower noise level and a very adjusted temperature and electrical consumption, giving a longer life to the oil, the pump and the hydraulic group.
After reviewing all the information and technical characteristics of Talsa's Hydraulic Stuffers, we can affirm that it is the world leader in its sector.
Access to «Catalog of Hydraulic Stuffers«