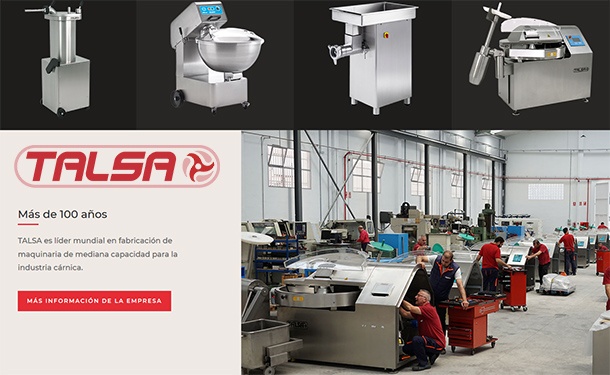 THE CUTTERS
Talsa has long since decided to change its website. This leading company in machinery for the meat industry is in constant development and does not miss any opportunity to keep its website updated, from where it shows the full range of machines, its technical characteristics, its standard and optional equipment and all its catalog recently updated.
The TALSA machines, in stainless steel, look like works of art, simple but robust, without corners to facilitate cleaning, safe and designed to allow easy access to its components in order to facilitate their maintenance.
The design of Talsa's machines is the result of R&D&i projects that have sometimes been carried out in cooperation with the Department of Mechanical Engineering of the Polytechnic University of Valencia resulting in the reduction of vibrations in the axis of the blades and the decrease of noise and vibrations in the chassis with silent drive transmission directed from a touch screen.
The Talsa mixing machines are responsible for preparing the minced meat for sausages of any kind, both for large farms and industrial meat processors.
Not only do they work for mincing meat for sausages, but they are also used for a wide range of poultry, fish, pastry or vegetarian products such as chopped pieces for new vegan burgers, processed cheeses or any food processing. The new models of mixers K120neo and K200neo cut, mix and emulsify all kinds of food with textures of all kinds, fine and thick.
The Talsa machines have undergone a strict control from verification bodies and advice on CE quality control and in terms of Health and Safety standards.  Talsa has also received the export award by the Valencia Chamber of Commerce so deserved for its work in the growth of machinery for the meat industry, being an exporter and maintaining distributors worldwide, with excellent management, from the reception of some of its components, manufacturing, sales through its distributors, delivery management by different means of transport and its after-sales and maintenance service 365 days a year.
Innovative design machines, TALSA machines.