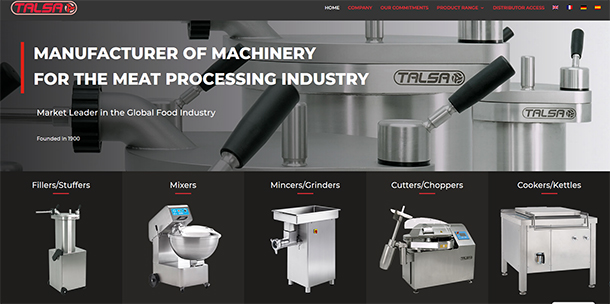 MACHINERY FOR THE MEAT INDUSTRY
Machines!!  They are here to make life easier for us and without them we would be nothing.  From the industrial revolution to the present moment, machines have been settling among us. Nowadays, we look towards machines in order to satisfy our need to save time or to simplify tasks to a minimum effort.
We can still remember those first years when selling a mixer demanded the thousand arts of a traveling salesman, going from house to house. Later, the commercial strategy of "in situ" demonstrations was added and right now part of the success is in a good advertising campaign and proper marketing.
All this is very well if, in addition, a solid and quality product is offered since the smoke disappears after the first impact.
For many years Talsa has been making machines of medium capacity for the meat industry, for example for butcher shops or sausage manufacturers.
The collection of machines that compose their catalogue is extensive, but they are separated in families like mixers, fillers, mincers, cutters and kettles.  From the first machine that Talsa put in circulation, many more have followed with new and better benefits thanks to an innovating technology. As an example, we can mention the patented double direction of shovel rotation and trough that allows shortening the kneading time.
All in order to create more hygienic, robust and safe machinery in all its simplicity.
Talsa's success in the international market is not gratuitous nor fortuitous. It has been based on constant research and self-growth. At the same time, it has been keeping an eye on new technologies and their careful management from the beginning of its productive process.
Also, it has created an elaborated and justified network of distributors well equipped for creating orders, and at the same time, delivering machines or spare pieces anywhere, all over the world, at any time, giving an immediate answer with no need of loss of time in doubtful interventions.
Their direct agents in more than 60 countries ensure their installation and putting into service, also guaranteeing the so customized technical service.