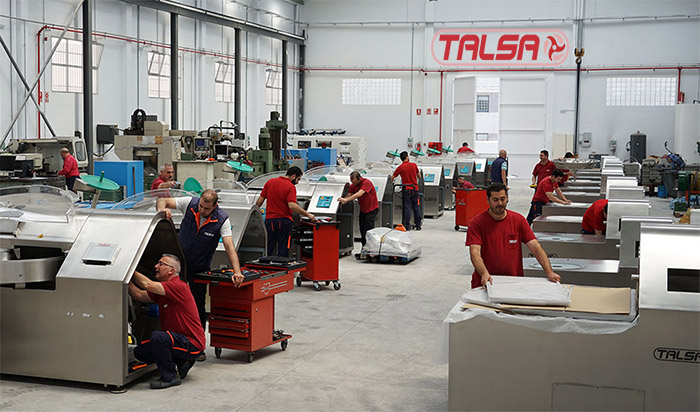 TALSA LEADERSHIP
Talsa has a range of machinery for the meat industry with which it closes the cycle for the manufacture of good sausages and other food products.
The machines arrived and with them the necessary help to make our lives easier both in the industry and at home. Talsa offers the sale of these machines through its distributors, especially to butchers, although they can be useful in other establishments.
Talsa machines have distinctive characteristics of Talsa quality, the material with which they have been designed, such as stainless steel, offers a clean and robust appearance while being easy to access and easy to maintain and clean.
Talsa's stuffers have an engine start and stop with a knee pad, without hands and among their benefits, less wear, noise, temperature and electrical consumption, and a longer life of the oil, pump and hydraulic group.
The high-powered Talsa mixers with assisted head opening, easy cleaning without hard-to-reach corners and automatic stop as soon as the head is opened.
Talsa's mincers completely made in high quality stainless steel perform better mincing as the meat does not receive any heat from the motor and its blades are made of carbon steel of the highest resistance and duration.
Talsa Digital Industrial Cutters cut and emulsify all types of meats and other food products with a touch screen control, more capacity and advanced functions.
We finish the circle with the Talsa electric automatic cooking kettles with hot and cold water filling taps, completely in stainless steel and adjustable feet, effortless opening, safety drain cock, clean, quality thermal insulation and temperature and time programmer.
The manufacturing period is practically immediate, being able to assemble small machines in 1 or 2 working days and 1 or 2 weeks for large capacity industrial machines. And together with its fast delivery by any means of transport around the world, Talsa makes a leading company worldwide with professional distribution.