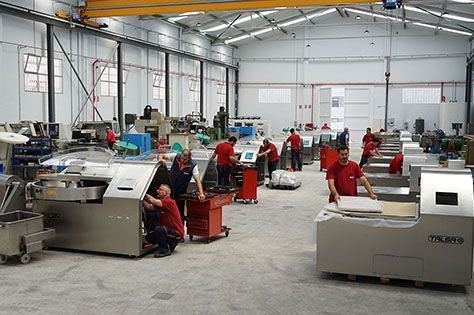 There is no doubt that the meat industry is one of the great engines of the world economy, mainly in developed countries.
According to the FAO (Food and Agriculture Organization of the United Nations), meat production as a whole (beef, chicken and pork) has remained during 2020 at the same level as in 2019 despite the effects of  Covid 19.
The meat industry moves around a multitude of sectors, from feed producers, pharmaceutical industry, livestock, slaughterhouses, wholesale and retail trade, through the auxiliary industry such as machinery for handling and processing of meat products, generating as a whole millions of jobs around the world.
Within the sector of machinery for the meat industry, we find in Europe a world leading company in the manufacture of medium-capacity machinery for the meat industry. This is TALSA, a company that began as a small mechanical workshop founded in 1900 and has ended up being one of the most important companies in its sector, due to its commitment to quality, innovation and commitment to its customers, as it sells exclusively to distributors.
In its manufacturing line it has focused on a range of machinery that includes:
On TALSA's website, we can access all the extended information on the indicated machinery, in different languages (English, French, German and Spanish). Download of the complete information brochures in PDF format is also available.