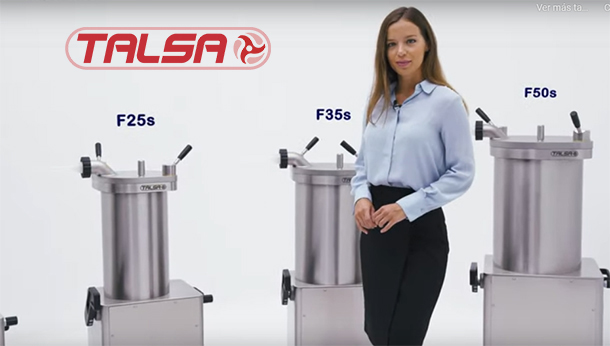 TALSA DISTRIBUTION
There are machines for butchers such as the medium capacity meat fillers stuffers distributed by TALSA.
Talsa is a manufacturer of machines for the meat industry, especially for those establishments that manufacture sausages or for butcher shops.
Talsa has 4 models of stuffing machines of different capacities whose distinctive characteristics are common to all of them and all with the TALSA guarantee.
Outstanding Features
Robust stainless steel construction.
Lid and piston in solid s/s sheet of great thickness and resistance.
Round, mechanized barrel, internally grinded: perfect internal diameter and sealing.
Easily removable piston.
High pressure for dens and cold mixtures.
Automatic piston decompression. Instant stop of product flow.
Cylinder ram in stainless steel.
New lid and piston seals of low wear and long life.
"Hands-free", knee activated automatic start/stop of motor by internal micro-switch and contactor within a water resistant electrical unit.
Benefits: less wear, less noise, reduced power consumption; lower operating temperature; longer life for oil, pump and hydraulic group.
Advantages at a Glance
2 wheels and handle for easy transport. Optional 4 wheels adding 2 swivel casters.
Easily accessible speed control.
Pressure gauge.
Removable lid, adjustable lid lock nuts with handle.I
Independent hydraulic oil reservoir.
Thermal protected motor.
Automatic knee lever lock until the piston reaches the lower position.
Carefully designed for easy dismantling, allowing quick access to all components for maintenance and cleaning.
The machines have been designed to allow easy access to all their components and thus enable easy maintenance and cleaning.
On the Talsa website you have all the technical specifications of its machines and dimensions, including the packaging.
Talsa has different videos to show the operation of its machines in English, aimed at all those who are interested in their machines and all those who would like to distribute them.