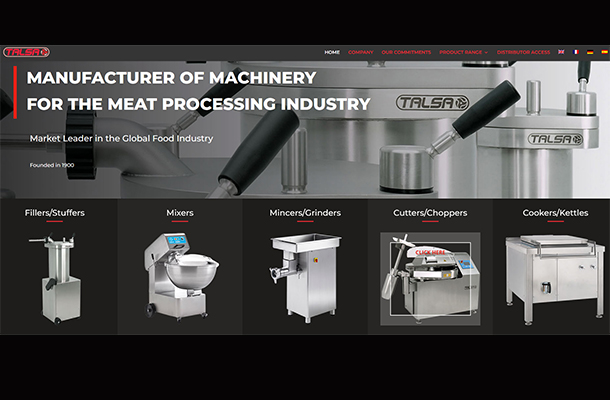 THE PROCESS
The first step for the elaboration of chopped products, both fresh and cooked, is the minced meat and mixing it with the additives and spices that characterize each sausage, and then that dough is stuffed into casings, natural or artificial, or in cans.
Fresh products will go then to the cold chain and those that need to be cooked are subjected to that cooking for their preservation and sterilization process.
A different process is followed for smoked products that is also performed after stuffing and can be combined with the baking process.
THE PROCESS:
Of course, the reception of the raw material has to undergo an exhaustive quality control before going to the freezer or refrigerator.
THE CHOPPING:
It is done by chopping machines that break the muscle fibers and stabilize the structure forming emulsions with adequate texture for which the temperature of the dough must be controlled.
THE KNEADING:
Lean meat and fat are mixed with additives, fats and spices and a kneading machine is used to homogenize the dough.
It is important to note that there is an absence of air so as avoid oxidation.
SAUSAGES OR CANNED PRODUCTS:
A stuffing machine will introduce the dough in casings or flexible containers. The machines can have piston, blade rotors, worm screws, etc.
COOKING:
The cooking pots are used to make semi-cooked products in stuffed or canned.
Then they will be cooled by cold shower or in a cooling chamber.
TALSA is a manufacturer of machinery for the meat industry and produces all these medium-capacity machines mainly for butchers.
Its machines are designed for efficient, safe and clean work.
Made of stainless steel, they are available worldwide through the distribution network thanks to an excellent management of both orders placed through the website of the machines, and spare parts (machine parts are identified with codes for easy identification of spare parts)
The transport network for the delivery of orders is operative 7/365, which makes Talsa a very competitive company.
Talsa machines are constantly being updated by their engineers, under quality and safety criteria. Talsa is committed to quality and excellence.