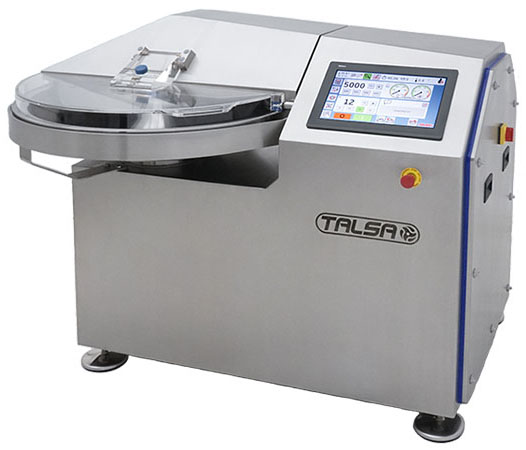 Cutter K55s Suprem
Cutters / Choppers
Digital Industrial Bowl
New Suprem Bowl Cutter series: quality, innovation, performance.
AT WORK
Very high cutting speed, fully variable from 500 up to 5000 rpm.
Slow mixing speed, variable 50 to 500 rpm, forward and reverse.
German BE-Maschinenmesser knives, special high resistance KUT steel.
Minimum space between all knives and the bowl thanks to its large central diameter.
4 onscreen buttons for direct selection of knife and bowl speeds, freely con gurable.
Motorized stainless-steel knife lid for effortless lifting and lowering.
Transparent noise protection cover with CE safety clearance reduces knife speed while open; returns to previous speed when closed.
CUTTING MECHANICS
Removable 6-knife head and compensating rings for use with 3.
Simpli ed knife shaft, very reliable, with advanced quality bearings and seals for high revs, 2 years guaranteed.
New vibration reduction technology at high revs, collaboration with the UPV Polytechnic University.
STAINLESS STEEL
Completely stainless: entire frame, external and internal, in AISI304 stainless steel, as well as all possible hardware and components.
Very robust construction, heavy machine, approx. 900 kg.
Solid, 90 kg cast stainless steel bowl, with outer rim to prevent liquids or dough from spilling.
Low height of bowl, for more comfortable use.
Bowl with drain plug.
Adjustable, stainless steel machine feet, non-slip and vibration absorbing.
CLEANING
Machine body surfaces with drainage slopes, to avoid stagnant water and simplify cleaning.
Polished surfaces without corners, with CE radius to facilitate cleaning and comply with hygiene standards.
Large, removable bowl scraper.
Double sealed, waterproof access panels.
Closed machine bottom.
Removable friction seal between lid and bowl, with self-adjusting springs.
ELECTRICS AND ELECTRONICS
Powerful motors to quickly process compact and chilled dough.
Two knife-motor powers available.
Soft start and stop of knifes and bowl by mean of two speed drives.
High energy ef ciency class IE3, high performance ABB motors and last generation drives.
Automatic knife safety stop.
Thermal motor protection.
Fast and sensitive digital thermometer, with sensor extended into the internal cavity of the lid.
Folding internal electric panel, easy access, temperature-controlled cooling system.
Electronic/electric components of rst brands Schneider Electric and ABB.
SOFTWARE AND EXTERNAL CONNECTIONS
Control panel with large 15" Schneider Electric digital touch screen, all information displayed simultaneously and in large size.
Extensive information on controls, alarms, errors, diagnostics.
Very advanced and practical software with numerous automatic stop options. Intuitive, easy to use.
Interactive recipes, can be stored and executed directly on the machine's screen.
New Talsa EcoCut Power Control to determine the machine power required to achieve desired cutting results at any time of the process.
Industry 4.0 digital solutions for maintenance, process integration and custom solutions.
Remote Service and Support access over secure internet connection. (Router/ethernet or mobile phone)
Excellent professional results with meat, vegetable, vegan/vegetarian food, sh, special dough.
For more information visit the website: https://talsanet.com/machine-range/cutters-choppers/cutter-k55s-suprem/
Download PDF:  https://talsanet.com/pdf/Talsa-K55-Cutter-Suprem-Brochure-ENG.pdf