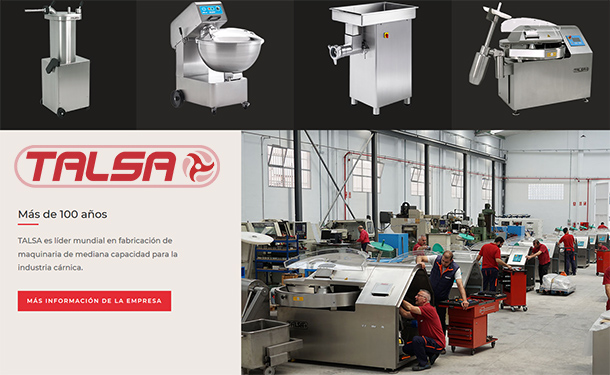 OF MEDIUM RANGE CAPACITY
Talsa is a world leader in the manufacture of quality machinery of medium capacity for the meat and meat product industry.
With 100 years of industrial experience, Talsa has dedicated 80 to machinery for the meat industry and has raised it with category not only in the European market but also in the world market, responding to the standards of quality and safety and hygiene and having been recognized with export awards from the Chamber of Commerce of Valencia.
There is no area that Talsa does not pamper and take care of in detail. Their commitment at a high level is reflected in everything they do, not only their machines that are constantly updated, but the means available to their workers, the environment, the marketing that meets the latest technologies, and computer support and web technology to expedite the orders and needs of its distributors, professional distribution to more than 60 countries to which it ensures a professional installation, commissioning and a guaranteed technical service. Transportation by any means anywhere in the world and almost immediate manufacturing deadlines.
Talsa's range of machinery is summarized in:
Talsa is a company with an innovative seal. The continuous investment in research and development makes Talsa a globally recognized firm in the manufacture of machinery for the medium capacity meat industry. It must be remembered that in Spain the meat industry occupies the fourth place after the automobile, oil and energy sectors.
On the Talsa website, all its machines are cataloged with all the technical characteristics and specifications.