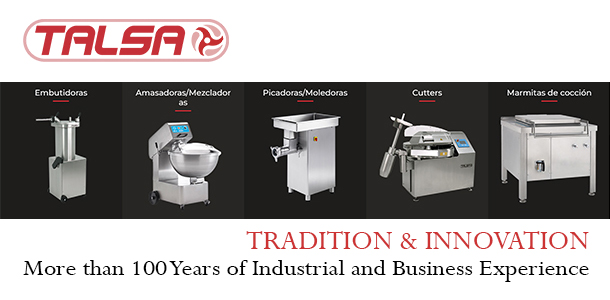 MANUFACTURE OF SAUSAGES
Talsa is a manufacturer of machinery for the meat industry, a set of medium-capacity machines, necessary for the manufacture of sausages.
Sales of its machines are mainly destined to butcher shops. Talsa machines are a benchmark for brand and quality worldwide.
Talsa has managed to position itself as a world leader in the food Industry, having in its catalog a set of machines for the manufacture of sausages.
STUFFERS
One can choose between stuffers with standard equipment or with optional equipment, the latter with a curved funnel to fill cans with a portioner.
Its start-up and stop are done without hands, with a knee control, by means of an internal micro switch and countertop in watertight box.
Therefore, less wear, and less noise, temperature and electricity consumption thus extending the life of the oil, the pump and the hydraulic group.
MIXERS
This is a specific kneader for minced meat that can be used for other food products.
With standard equipment or exclusive patented blade system for a double job of extracting the mass from the bottom to the surface with one arm, while the other performs the reverse process doubling the performance for both fast and energetic kneading as well as uniform and controlled, when needed.
MINCERS
Its high-performance motor is energy efficient, quieter, generating less heat and facilitating chopping.
Its carbon steel blades are resistant and durable.
CUTTERS
TALSA slicers and mixers are designed for the production of minced meat of all kinds from artisan production to large butcher shops.
Also suitable for a wide range of foods such as poultry, fish, pastries, cheese … for the food industry, from coarse to fine textures.
KETTLES
For electric automatic cooking, entirely in stainless steel, with adjustable steel feet, effortless opening, safety emptying, thermal insulation, as well as hot and cold water filling taps for homogeneous cooking and energy control.
All TALSA machines are made of stainless steel. Quality, safety and hygiene are its constant commitment and its desire to improve results in a modern, robust and reliable product with a competitive price.
Manufacturing times are very short, almost immediate, as well as the shipment of parts anywhere in the world by urgent transport through direct agents' professional distribution.
Both the sale and its after-sales service is guaranteed by a very good management.