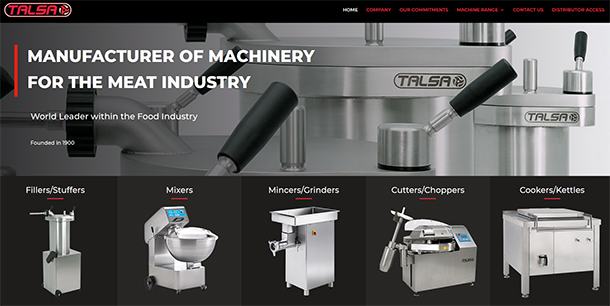 PROFESSIONAL DISTRIBUTION
Talsa is a manufacturer of medium range machinery for the meat industry offering fillers, mixers, mincers, cutters and cookers. Their machinery has been widely recognized for their competitive price and quality, becoming a world reference. 

One of Talsa's strong points is its commitment to innovation and a meticulous management regarding all kinds of requests, spare parts, emails to its distributors, etc. guaranteeing immediate answer 365 days a year.  
 
The delivery of their machinery around the globe is done through regular delivery methods, and for urgent deliveries it relies on TNT Express Courier. This is also used for the delivery of spare parts if needed, although their machines barely ever need them. This express delivery method provides an additional bonus to their services, that together with their stock allows them to guarantee deliveries from one day to the other.   
 
For an immediate delivery to be possible, Talsa keeps in constant communication with its distributors.
 
Quality, operational safety and hygiene are the base for the constant updates on their machinery and a non-stop effort in collaboration with its distributors. Talsa's engineers also count on the company's support providing the latest technical resources and computer-based advances in equipment and 3D computer programs.  
 
Talsa has currently made public its new website in English and soon it will be available in other languages. Their distributors, through an area exclusively designed for them, are in constant communication with the company, being able to place orders through an interactive part-by-part visual system that speeds up orders and their delivery.  
 
Talsa's professional distribution is possible in over 60 countries through its agents, to guarantee the installation of their machinery by experts ensuring their proper functioning for years. 
 
The lack of complex programming and their standard electric and industrial parts speak for their reliability.