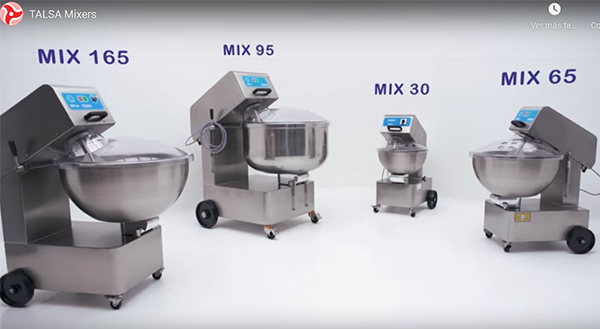 STAR KNEADERS
Talsa is a manufacturer and distributor of machines for the meat Industry and within its range the star product is its kneader.
Talsa´s medium capacity machinery stands out in the market, having achieved worldwide leadership in the meat Industry.
The company was founded in 1900 and has been growing ever since, thanks to the search for quality for which no effort or investment has been spared.
What at first was a pursuit of machinery excellence, has developed into the search for brand quality. Through time, this vision has consolidated the initial I+ D+ i plan into a company with a character imposed from its policy of dedication to management and logistics.
No detail in Talsa is left unattended by the eyes of its Management, which tries to always keep up with the latest technological developments to incorporate them into the company, to make Talsa a leading company in terms of technology, Human Resources, Security and company policy.
The Talsa machinery catalog is reduced to five machine functionalities: stuffers, mixers, mincers, cutters and kettles, but all of them have different models and sizes whose characteristics and advantages are improved with every new model.
In general, they are robust machines, easy to clean keeping in mind the hygiene that this sector requires, simple and safe.
They have been designed to allow access to all its components, and thus enabling comfortable maintenance and cleaning.
Among all its machines, the mixers are TALSA's star, and their blade system has been patented. This blade system performs a double job, while one of the arms drives the dough from the bottom to the surface, the other performs the reverse process, doubling the revival of the machine and reducing the kneading time in half.
Its distributor network allows a secure work, because through this network Talsa is incorporated to the market. An online work system is in place to order machines and spare parts 365 days a year.