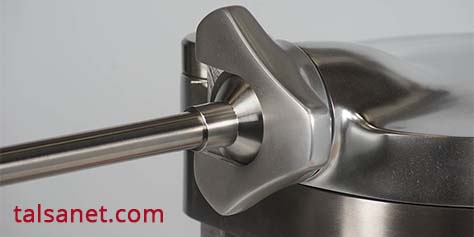 Fillers / Stuffers
Talsa
Talsa's machinery meets the European quality norms thanks to a broad experience on the industrial market of over 100 years, almost all dedicated to machinery for the meat and food industry.
Talsa has 5 star machines they feel very proud of. They are the result of their dedication to technology and are presented with optimal quality and finish.
We have already talked about the Talsa Mixers and this time we want to present another of its outstanding machines: the fillers/stuffers. As the name already indicates, they fill or thrust something into something else using pressure, in this case meat for making cold cuts.
Talsa's fillers / stuffers work with high pressure suitable for compact or cold mixtures. They come with a speed control regulator situated near the operator for a precise adjustment of the product flow. Designed to be easy to work with, with wheels and a handle for easy movement and they are easy to clean.
The manual portioning device is an accessory that fits on the end of the meat barrel of the Talsa filler/stuffer. Operated with a lever with forward/back position, it obtains consistent volume dosage for different measures and weights required with a high level of precision.
Another accessory is a funnel with a non-drip cutting valve that can be adapted to fill tins and recipients.
To guarantee supplying and maintenance, Talsa does all the selling through their distributors, who guarantee the quality and professionalism reflected in the company's philosophy. All accessories are perfectly assembled to the machines. This gains the client's trust and ensures functioning without waiting time.
On the web page and online catalog of their machinery is available together with all the technical specifications, pictures and videos that show how the machines work.