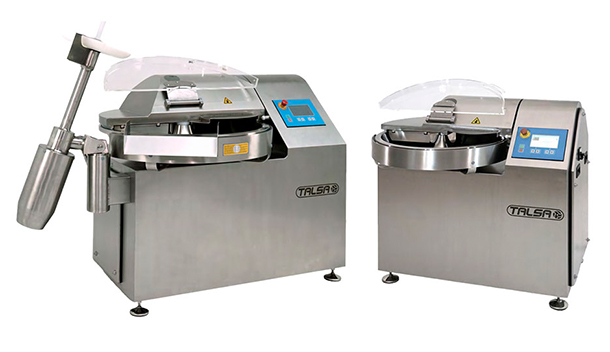 PROFESSIONAL DIGITAL CUTTERS
Talsa is a manufacturer of medium capacity machines for the meat industry.
Today, we will talk about its cutters machines, tools that are present in many jobs and in many sectors.
The Talsa K50neo and K80neo mixer cutters have been designed for the production of minced meats of all kinds, from artisan production to large butcher shops mainly.
Used in delicatessens for the preparation of fine doughs and the production of minced meat, they are also suitable for products such as poultry, fish, pastries, vegetables, processed cheese and other products of the food industry.
They mix and emulsify all kinds of food products achieving different textures, and are very easy to use, clean and safe.
Features:
7" Touch Screen
6 membrane buttons for the most used functions
Digital display of gear, revolutions, temperature, running time and current time
Automatic stop after elapsed time
Display of maintenance and service intervals
With the following options
Interactive recipe guide
User administrator
Recording of data
Production Plan
Talsa, in its effort to improve its machines, is committed to R + D + i for the improvement and updating of its machinery.
These two examples are the result of cooperation with the Polytechnic University of Valencia, Department of Mechanical Engineering for vibration and sound reduction:
Design with 3D models on computer
Reduction of vibrations in the axis of the blades
Reduction of noise and vibrations in the chassis
Silent drive transmission.
Its universal sense of progress makes Talsa strive to improve its professional digital machines to increase productivity, each time with more power and more advanced functions without forgetting the distribution and all the agents involved.
To complete the circle, Talsa has made some commitments regarding quality and excellence of the manufacturing deadlines, urgent transport, the shipment of spare parts and its immediate attention to distributors every day of the year.