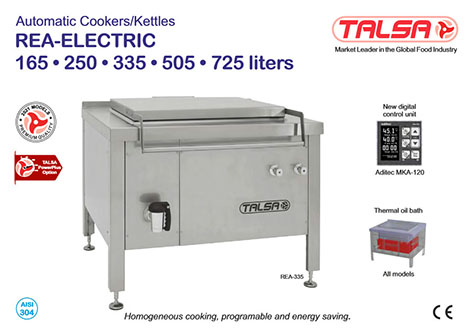 AUTOMATIC ELECTRIC COOKERS / KETTLES
Talsa updates its catalog
Talsa, a company in which we have repeatedly commented on this blog, an international benchmark in the manufacture of medium-capacity machinery for the meat industry, has just updated its range of electric automatic cooking kettles for the meat industry.
It has stopped manufacturing gas kettles to focus exclusively on electric kettles.
It has a range of 165, 250, 335, 505 and 725 liters, with different options:

Advance features
Lid opens and closes effortlessly
Safety drain tap
Rounded corners, perfect cleaning
High quality thermal isolation
Digital time and temperature control
Hot and cold water inlet taps
Silicone gasket
All in stainless steel including the interior
2 Internal safety thermostats
Adjustable s/s feet
Homogeneous cooking, programable and energy saving
Thermal oil bath
All models include an intermediate stainless-steel thermal oil chamber, internal expansion chamber, high-performance thermal fluid and internal drainage tap.
The thermal oil chamber allows uniform heat distribution for better cooking and practically eliminates the possibility of burning foods as well as maintaining the initial heat for the following cooking, saving energy.
Time required to heat chamber filled with cold water from ±20°C to ±90ºC: ±80 minutes if the thermal transfer fluid is cold (less if filled with pre-heated water); Next loads approx. half time when all liquids and metal are already hot.
Sides and cover are isolated with fireproof fiberglass and aluminum sheathing.
Digital, programable control unit
German control unit Aditec MKA-120 allows precise programming of cooking time & temperature.
Optional manual probe to measure core temperature of large pieces and perform temperature delta cooking.
Programable delayed program start at any desired time & day.
Control unit mounted on separate switchboard with 7 m cable.
Buzzer to alert at the end of cycle.
COOKING • SCALDING • WARMING UP • MELTING
Links of interest: