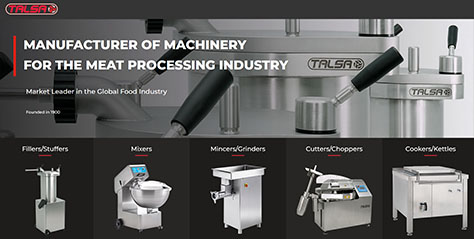 With the global pandemic crisis partly over, the food industry is making a strong comeback.
In the machinery manufacturing sector for the meat industry, companies such as Talsa are consolidating their leadership.
In Talsa's case, one of the keys to maintaining its position as a world leader in the manufacture of medium-capacity machinery for the meat industry, even during the pandemic, has been its permanent commitment to innovation.
The continuous investment in Research, Development and Innovation has made Talsa a worldwide recognized brand.
Its range of machinery consists of:
Hydraulic meat stuffers
The machines have been designed to allow easy access to all their components, for easy maintenance and cleaning.
View more information about meat stuffers
Kneaders, meat mixers
The exclusive "TALSA Soft Mixing System" paddle system performs a double job: while one of the arms extracts the dough from the bottom of the trough to the surface, the other performs the reverse process at the same time, doubling the machine's output and halving the kneading time.
View more information about meat kneaders and mixers
Mincers, meat grinders
L&W Germany blades and plates supplied with Talsa grinders are made of carbon steel of the highest strength and durability.
This cutting material stands out for its very low wear, greatly prolonging the life and file of blades and plates, also avoiding the contamination of metal particles in the meat when using weak stainless steel elements.
View more information about meat grinders and mincers
Meat cutters
Talsa has a wide range of meat cutters models with capacities of 15, 30, 50, 80, 120 and 205 liters.
View more information about meat cutters
 Cooking kettles for meat
Different models with capacities of 165, 250, 335, 505 and 725 liters and different optimized powers for each model allow a homogeneous cooking with an important control of energy saving.
All models have a thermal oil chamber (double boiler).
View more information about meat cooking kettles
 This leading position in its sector is the result of the maturity achieved after 100 years of industrial experience, more than 80 of which in the meat and food machinery sector.