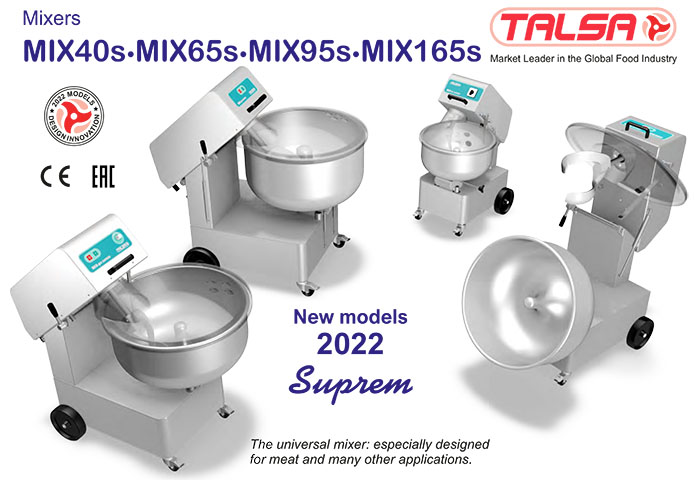 Talsa, market Leader in the Global Food Industry.
New models 2022 Suprem
The universal mixer: especially designed for meat and many other applications.
Classic design of mixing machine, emulating the turning of the human hands and arms.
Powerful "double-spoon" paddle that performs dual mixing at each turn: dough up & dough down, copying the manual human process of stirring and churning.
The diagonal attack angle of the mixing paddle hardly squeezes the dough against the bowl but rather mingles it gently with the same smooth dough.
New optimized attack angle of the mixing paddle, designed
in collaboration with the fluids department of the Polytechnic University of Valencia.
Central bowl column in all models, acting as a divider, homogenizing the dough even more.
New bowl scraper in all models, removes possible adhesions on the side like spices, etc., returning it to the mixing zone, unifying all parts of the mixture.
Paddle is very easy to clean, without the need to disassemble.
The perfect traditional mixing that the meat and food sector demands.
Advantages at a glance
Reinforced, all stainless construction.
Pneumatically assisted rising of the machine head for effortless elevation and lowering.
Two s/s swivel casters with brake and two fixed wheels for easy movement.
Food approved plastic lid with holes for addition. Avoids contact of the operator with the paddle and prevents external contamination.
Powerful motors and strong gearboxes to easily mix even compact and cold mixtures.
3-Phase motors with double voltage (permits changing the voltage).
Automatic stop when lifting the machine head.
Sealed & secure low voltage electric switchboxes.
Hermetically closed machine base prevents intrusion of water or dirt.
Easy cleaning due to the absence of hard to reach corners.
Bowl and paddle are folding to ease unloading and cleaning.
Hygienic control panel, IP55, with membrane push-buttons.
Machines designed to mix minced meat, but usable for many other food products.